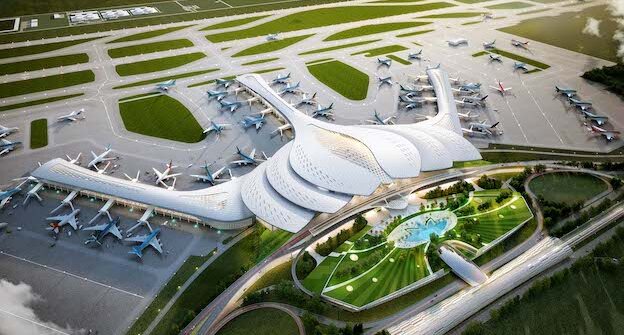 Vietnam - Sân bay Quốc tế Long Thành
Construction of the Long Thanh International Airport terminal is scheduled to commence in August 2023, with a budget of VND35 trillion (US$1.4 billion). Nguyen Tien Viet, Deputy General Director of the Airports Corporation of Vietnam, disclosed this during a meeting with Dong Nai Province leaders to discuss land acquisition and compensation for the airport project. The construction contractor is expected to be selected this month. Besides the terminal, other infrastructure components like runways and aprons will also be developed around the same time.
Development Progress; Three phases
The Dong Nai People's Committee reported that approximately 1,810 hectares of land have been cleared for the first phase of the airport project. Three consortiums are currently bidding for the terminal construction, which is the largest and most expensive component of the airport. These consortiums include both Vietnamese and foreign companies. The Long Thanh Airport is projected to be Vietnam's largest airport, with an estimated budget of VND336.63 trillion. The construction is divided into three phases:
Phase One (2025): The first phase, featuring one runway and terminal, is set to be completed by 2025, allowing the airport to handle 25 million passengers annually.
Phase Two (2035): The second phase, expected to be finished by 2035, will add another runway and terminal, doubling the airport's capacity to 50 million passengers.
Phase Three (2050): In the third and final phase, scheduled for completion by 2050, additional infrastructure will be developed, and the airport's capacity will again double to 100 million passengers.
While there was a proposal to construct a dedicated highway exclusively for traffic between the new and existing airports, it is not considered a feasible option. Instead, plans include a high-speed railway connection, connecting Long Thanh Airport to Ho Chi Minh City, and a proposed light rail system to connect the airport to the city.
Project History and Location of Long Thanh International Airport
The Long Thanh International Airport project was announced in 2004 but has faced numerous delays, primarily due to land clearance issues. The airport is situated approximately 40 km east of Ho Chi Minh City, in the Dong Nai province. The project site covers 5,000 hectares, making it one of the largest airports globally.
Due to its considerable distance from the city compared to the existing airport, Long Thanh International Airport will require robust transportation infrastructure. A highway access route is already in place, with the Ho Chi Minh City – Long Thanh – Dau Giay Expressway opening in 2015. Additionally, plans include a new bridge at Cat Lai, providing an alternative route in case of expressway issues.
Future of Long Thanh International Airport
Long Thanh International Airport is poised to replace Tan Son Nhat International Airport as the main airport for Ho Chi Minh City. The first phase, expected to be completed in 2025, will have a capacity of 25 million passengers annually. When fully developed, the airport is designed to serve over 100 million passengers yearly, making it one of the world's largest airports.
This ambitious project marks a significant infrastructure investment in Vietnam's aviation sector, shaping the future of air travel in the country.