United Arab Emirates - ميناء زايد.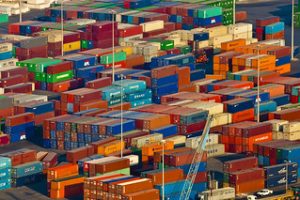 Zayed Port has served as the main port in the capital of Abu Dhabi for over 40 years. It was inaugurated in 1972 and covers an area of 5.5 million square metres. The port has 41 hectares dedicated to container terminals that can accommodate 15,000 TEU ships.
Abu Dhabi Ports is a company that owns, manages the port. It operates 11 ports and terminals in the UAE and Guinea.
Additional Details
Total area: 535 hectares.
Container | Berths: 21.
Draft / maximum vessel size: 6-15 metres draft.

Half-Day Private Abu Dhabi Tour with Louvre Museum from Abu Dhabi - $195.00
from:
Viator, A Tripadvisor Company
Cargo & Cruise at Khalifa Port
All container traffic and Roll-on-Roll-off (RoRo) cargo has moved to Khalifa Port. Zayed Port has expanded its status as a premier regional hub. This encompasses cruise tourism, as well as general and bulk cargo services. With its access to multimodal land, sea and air transport network.
Zayed Port consists of two deep basins for general cargo vessels and cruise liners and a smaller basin for vessels such as tugs, barges and service crafts.
The port also enjoys ease of access, being just five minutes away from the E11 highway and in the centre of Abu Dhabi city. With three gate accesses, the port is fully ISPS-compliant with its own security and safety team.
Celebrating UAE's Heritage
As part of the comprehensive development plans to establish Abu Dhabi as a world-class cruise destination, in December 2015, Zayed Port launched the permanent Abu Dhabi Cruise Terminal.  This addresses the increasing demand for cruise tourism to the country.
The terminal allows three cruise ships to berth at any one time.  The prime location gives visitors easy access to a wide range of attractions. These include the Louvre Abu Dhabi Museum, Ferrari World, Yas Island and other leisure attractions, hotels and resorts in the Emirate.
The focus has paid off. The number of tourists visiting the capital has significantly risen since circa 2006 when the first cruise liner called at the port. Today, Zayed Port welcomes high profile cruise ships from Asia, Europe and America, with 100,000s of tourists visiting Abu Dhabi each season.
In 2017, the company recorded a 48 percent increase in passengers arriving at the terminal. Close to six times the eight percent increase forecast in 2016.
Khalifa Port – part of the Abu Dhabi netwrok
Abu Dhabi Ports serves as the region's premier facilitator of logistics, industry, and trade, as well as a bridge linking Abu Dhabi to the world.
The company serves several clusters covering Ports, Industrial Cities & Free Zone, Maritime, Logistics. Abu Dhabi Ports' portfolio comprises ports and terminals in the UAE and Guinea.  Plus more than 550 square kilometres of industrial zones within Khalifa Industrial Zone Abu Dhabi (KIZAD) and ZonesCorp. It is the largest integrated trade, logistics, and industrial business grouping in the Middle East.
Since its establishment in 2006, Abu Dhabi Ports has played a pivotal role in the growth of the emirate, contributing 13.6% of Abu Dhabi's non-oil GDP growth.