United Arab Emirates - منطقة عجمان الحرة
Ajman Free Zone (AFZA) stands as a prominent free trade zone located in Ajman, within the United Arab Emirates. Established in 1988, AFZA is one among several unbonded free zones in the UAE that provides investors with the opportunity for offshore company setup and operation.
In the year 2020, the zone experienced a substantial surge in the number of newly registered companies, reaching a total of 1,717 entities. This marked an impressive 23% increase compared to the preceding year, 2019. Within this figure, offshore companies constituted 11% of the new entrants, indicating a robust sense of confidence within the international business and investment community. Notably, this influx of businesses showcased the economic competitiveness of Ajman. The education sector took the lead in terms of investment activity, boasting a remarkable growth rate of 26%.
Technology Sector at Ajman Free Zone
The technology sector emerged as a pivotal player in the economic landscape, displaying a commendable 20% growth in economic and investment activities during 2020. This sector's advancement positioned Ajman as a crucial contributor to the realization of the UAE's ambitious Next 50 Years Plan, particularly in the realm of advanced digital infrastructure. Through this growth, the zone solidified its position as a driver of economic expansion and diversification. This was evident in the 29% boost in Ajman's total exports and the acquisition of a 35% share in the volume of re-exports during the same year.
Ajman Media City Free Zone: A Modern Business Haven
Ajman Media City Free Zone presents a recent opportunity for businesses seeking a free zone setup in the UAE, specifically within the city of Ajman. With a strategic location near Ajman Airport, this free zone facilitates efficient supply chain processes, enhancing companies' overall performance. It offers a comprehensive range of government and banking services under one roof, supplemented by digital platforms for seamless business establishment. The zone's appeal lies in its simplified requirements for business setup and tailored packages catering to the needs of independent entrepreneurs and businesspersons. Ajman Free Zone provides diverse office options, eco-friendly warehouses, and accommodation facilities, particularly catering to health, food, and beverage businesses.
The free zone places significant emphasis on both physical and digital infrastructure development, evident in its ongoing projects. The completion of the second phase of the Robotic Process Automation (RPA) system and an array of electronic and smart services showcases a commitment to enhancing the well-being of the Ajman community. This aligns with the Digital Government Strategic Plan 2022, aimed at delivering exceptional customer experiences.
Expansion and Sector Diversification at Ajman Free Zone
The free zone is pivotal in attracting investments across various sectors, contributing to the UAE's economic diversification. Notably, sectors like food and beverages, automobiles, health and beauty, construction, agriculture, oil and gas, and more, find a promising platform within the free zone's ecosystem.
In light of the growing demand from companies seeking to expand within the UAE and the region, the zone has embarked on an ambitious expansion journey. This plan encompasses the creation of the Green Zone, focusing on environmentally sustainable warehouses in line with the Ajman Vision 2021′ for a greener economy. Moreover, the Ajman Boulevard project is set to offer advanced office spaces and business headquarters, equipped with cutting-edge technologies to support new businesses entering Ajman.
Incentives and Investment Facilitation
Ajman Free Zone takes a proactive stance in stimulating economic and investment activities. It offers an array of incentives and investment facilities that position it as a prime choice for businesses and investors seeking growth opportunities. This comprehensive approach contributes to the vibrancy of the local business community and fosters the attraction of Foreign Direct Investments (FDIs).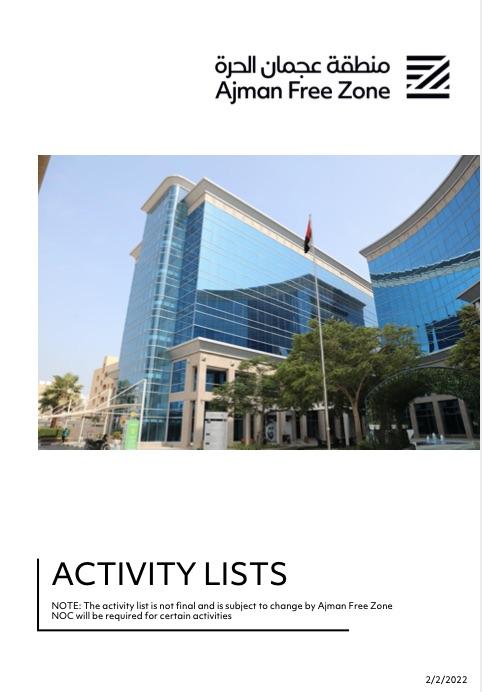 Contact us for more information
Ready built warehouses at Ajman Free Zone
Ready Warehouses starting at 100 sq mtrs, are not only spacious and accomodative to your requirement but are also located at easily accessible locations close to the airports and the ports.
Features
Unlimited warehouse spaces starting at 100 m²
Warehouses fitted inside with free office spaces
Round the clock security and surveillance
Business are eligible for a minimum of 14 resident visas
Warehouses suited for all business needs including parking facilities
Add value to your business through our online customer portal
Convenient proximity to Ajman port, Sharjah & Dubai airport, and main roads
A chance to expand your business and set up from anywhere
Incentives
24-hour security and full accessibility
Labour, forklifts and cleaning services (available at extra cost)
Easy access to manpower for loading, unloading and cargo handling
Visa Services
Eligibility to apply for UAE Residence Visas for investor/partner, manager, staff and labourers
Utility Fees*
* Rates as per Federal Electricity and Water Authority
Temporary Leasing Warehouses at Ajman Free Zone

Ajman Free Zone (AFZ) temporary leasing of warehouses is an addition to its wide array of offered services and products. This flexible solution comes as a response to the growing demand from customers on storage units.
The warehouses' units for short-term rent are available in different sizes to meet customers' various needs, including utilities services. In addition, this service is exempted from paying value-added tax (VAT) and has been made available as well for customers who are not licensed at Ajman Free Zone.
FEATURES
Unlimited Short-Term Warehouse spaces starting at 100SQM
Open for Ajman Free Zone companies and Non Ajman Free Zone Companies
Short-Term Warehouses fitted inside with free office spaces
Round the clock security and surveillance
Business are eligible for a minimum of 14 resident visas
Short-Term Warehouses suited for all business needs including parking facilities
Add value to your business through our online customer portal
Convenient proximity to Ajman port, Sharjah & Dubai airport, and main roads
A chance to expand your business and set up from anywhere
Monthly charges / no long term commitments / on demand basis / all inclusive (utility charges)
INCENTIVES
24-hour security and full accessibility
Labour, forklifts and cleaning services (available at extra cost)
Easy access to manpower for loading, unloading and cargo handling
Visa Services
Eligibility to apply for UAE Residence Visas for investor/partner, manager, staff and labourers