Qatar - حديقة بركة العوامر اللوجستية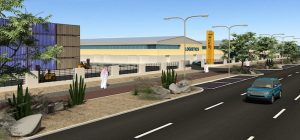 Birkat Al Awamer Logistics Park is ideal for companies that seek to build their own facility. There is the option to build their own showrooms, offices, and worker accommodation in the plot. The park offers plots varying in size starting from 1,000 sq m.
With an area of 9,381,885 sq m, Birkat Al Awamer is in close proximity to gateways such as Hamad Port, and Um Alhoul Free Zone. It is only 40 kilometres from Doha.
Birkat Al Awamer's has been designed for the establishment of modern warehouse and workshops facilities to serve the local market. There is a long-term lease period of 25 years.
Additional Details
Total area: 938 hectares.
Seaport: Hamad Port 20 minutes.
Service Hubs
Manateq has established new Service Hubs at various strategic locations in the Logistics Parks.
These Service Hubs will provide day-to-day conveniences and needs to the local community. These include Masjid (mosque), retail and accommodations, making these areas an  enjoyable place to work, live and invest. It is Manateq's objective to provide a sustainable business environment supported by premium infrastructure and services for visitors and tenants alike, to serve all their needs and demands.
Examples of the targeted activities.
Cafes
Supermarket
Bakeries
Pharmacies
Barbershops
Tailoring workshops
Laundries
Retail Services
The investors in the Birkat Al Awamer Logistics Park  benefit from the proximity to Hamad Port and other important gateways such as the Umm Al-Houl Free Zone. The project appeals to companies in logistics, construction, food, aluminium production and distribution, stone and steel fabrication as well as multi-purpose storage operation.
The investors are required to prepare and provide a valid commercial registration and a business plan as part of their application. This will be assessed by the Manateq Investment Committee.
In order to facilitate the solutions for investors in terms of financing or funding, Manateq has signed a memorandum of understanding with Qatar Islamic Bank (QIB). As part of the agreement, investors in Manateq's four logistics parks – Jery Al Samur, Birkat Al Awamer, Al Wakra and Aba Saleel – are allowed to raise sixty percent of the project cost against land and personal guarantees from QIB.
In conclusion, the (logistics) services from storage to distribution in the logistics parks, their strategic location, road connectivity and easy access to airports and sea ports enable stakeholders to streamline supply chains and deliver goods in a faster, cheaper and more efficient manner.
Pricing
Lease Rates: 20 QR / m2 / Year